Following my previous post on Robin Williams and my love of great comedians, I have dug into the lineage of Red Skelton, entertainer, clown, and mime. The immediate facts are as follows:
Richard Bernard Skelton was born 18 Jul 1913 in Vincennes, Knox Co.,
IN. He was married 3 times to Edna Stillwell in 1931, divorced 1943; Georgia Davis in 1945, divorced 1971, two children Richard, Jr. who died young of leukemia and Valentina Marie; lastly Lothian Toland in 1973 to Red's death in 1997. Red died 17 Sep 1997 of pneumonia at a hospital in Palm Springs, CA. He is buried at Forest Lawn Memorial Park Cemetery in Glendale, CA. He was a Mason and Shriner for over 58 years. Drafted into the army in 1944, served 3 months and had a nervous breakdown in Italy, was hospitalized, then discharged. This was the early signs of a problem that later turned to over use of alcohol, etc. I have always felt comedians have deep dark troubles that they express through their art. I'm not sure if the art saves them or adds to their demise. For Red it seems a dark past filled with poverty and a shady family history may have taken a toll on the man.
In the biography, Red Skelton: The Man behind the Mask, by Wes Gehring (available to peruse on google books), thank you google and the Indiana Historical Press for publishing this book and making it available on-line, wonderful read!
Red Skelton: the Man behind the Mask
You find the following story that should be made into a movie. I must say the first chapter on his childhood broke my heart. His older brothers let him know he didn't belong and tortured him like the worst in cruelty that only other children can induce and get away with. Although his supposed non-biological brothers tortured him relentlessly, Red was known throughout his life as caring and giving. It's interesting that Red and Robin Williams were both Cancers, July 21st for Robin and the 18th for Red, mine is the 22nd!) Apparently, a neighbor kid was teased and slow in developmental talk. Red not only befriended the outcast, but mirrored one of his characters, Klem Kiddlehopper in his memory (the families name was Hopper). But, wait, let's not get ahead of ourselves. Red and Lucille Ball below.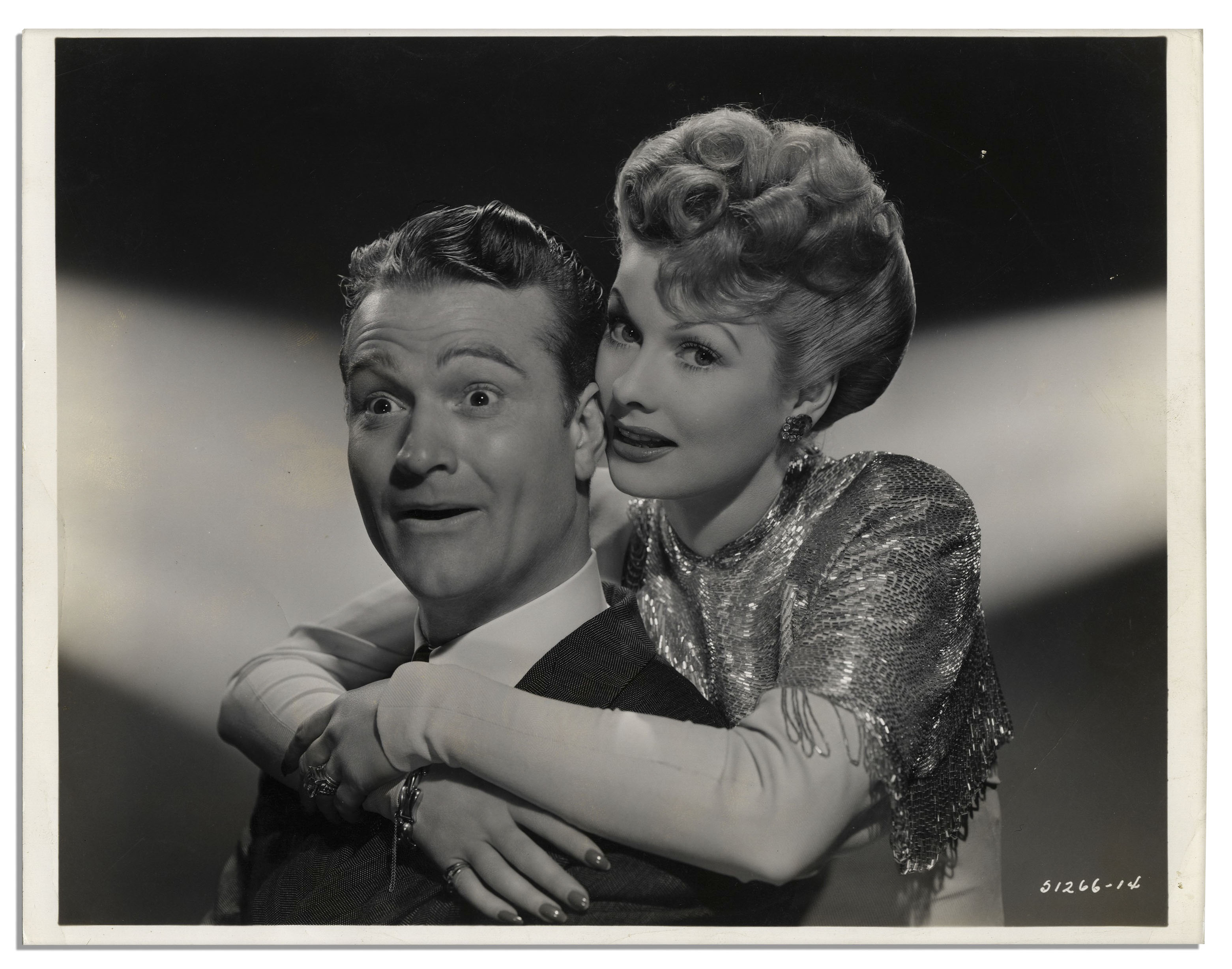 Red's father, Joseph Elmer (Eheart) Skelton, died shortly before Red was born of what is reported to be alcoholism. Josephs' dad, Newton, also died 9 months after Joseph was born, leaving both families in difficult economic situations. The plot gets thick here as the name Eheart is used for the family after Newton's death which could mean a step father situation and census takers just gave the Eheart name to the children or there was another father. Because of Joseph's birth and christening records listing "Newton Skelton"
1
I would assume a step father. The mother is listed as Ella Richardville
2
.
So, according to the papers of Red's at the Indiana Historical Society, Newton Skelton was a prominent lawyer in Gibson County, IN and Ella Richardville was a young maid in his home. They had an affair, which produced Joseph as a bastard child, documented on the above-mentioned birth and christening record. According to oral history, the shame of this all led to Newton's untimely death and Ella marrying Joseph Eheart shortly afterward. Joseph Skelton shows up in the census as a Eheart. Are you confused yet? Just wait!! Now Ella Richardville apparently ran a brothel (newspapers of the time revel this to be the case) and Red's birth is believed to be shrouded in paternity issues. Red did not believe his mother to be Ida Mae Fields, but a prostitute named Lillian who had relations with Ella's son Joseph (Red's biological father) and either died in child birth or committed suicide. Ida May agreed to raise Red as her own as she had a stillborn child very close to the same day as Red's birth. Holy moly!! This is the story Red believed to be true.
This is where historians and genealogist differ. I went looking for documents to support or defy Red and the author of this biography's stories or oral histories. The author sought out great reference material in other printed sources and family interviews. However, neither mention birth, marriage, death or census records to much extent. I'm not discounting anything the author, Wes Gehring writes as I believe this is a wonderfully researched biography. I just went a bit further with what genealogist do.
Ella Richardville was born about 1862 in Indiana. Ella is found in the 1880 census of Allison, Lawrence County, IL, age 18, with her father John Richardville, no mother, sister Lida (age 23), brothers Leon, Raymond, and Charles. Charles is the key as Ella states she has a brother Charles in newspaper references. It appears no one on ancestry.com has the correct parentage for Ella. My knowledge of the Vincennes area research (from my own lineage) remembered that many families, including my own, owned or lived on land right over the bridge from Vincennes in Lawrence County, IL. Hop, skip, and a jump. So very close, yet on paper in two different states!
This is a mess! But, alas, we now have a possible story line! I found a marriage intention and marriage record for Newton Skelton and Catherine Richards, intention 4 Dec 1860, marriage 7 Dec 1860 in Gibson County, IN
3
. Could this be any more difficult! Richards and Richardville. So similar! At least Newton and Ella had to acknowledge the birth and christening (they did christen Joseph). Now…do the math! Ella was born in 1862, Newton married Catherine Richards in 1860. Newton was obviously very much older than Ella who gave birth at 18.
The last name Richardville immediately caught my attention, so I decided to veer off track for a moment. When I'm doing genealogical research that I'm not paid for, I don't follow usual protocol that will only keep me on track with just the facts. I let myself wonder a bit. This is where I find very intriguing history, especially this time! Knowing Red was from Vincennes, IN (my 5th great grandfather was the registrar for the IN territory, aiding in its statehood, helping to keep slavery from the territory, admirer of Tecumseh (owning one of his peace pipes, etc. [see previous posts]), and knowing the deep French Canadian connection, I began to dig deeper on the Richardville name. Gold mine of information and misinformation.
I immediately fell into a possible connection to the Miami Tribe chief Jean Baptiste de Richardville, who was known as Pinsiwa (my ancestor spelled it Pishoowah below) in the Miami Tribe. There is much history about Pinsiwa and his signing of the Treaty of Greenville and others which ceded parts of southern Indiana to the American government in return for
annuities. There was a rift between the Miami and Tecumseh on this very issue. Chief Jean Baptiste became a very wealthy man.
In The Correspondence of John Badollet and Albert Gallatin, we find the following: "...that the indians want nothing but good treatment to become well disposed to the United States and that there is some mystery in the indian agency. I myself have observed one Pishoowah or Richardville half blooded indian who speaks french as well as I do, is with his uncle Pacawn, a grand chief of the Miamis & besides very much of a gentleman, I have seen that man, for some hidden reason affectedly thrown in the background and treated with very little ceremony which usage he has deeply felt."
4
This was a letter from my 5th great grandfather, John Badollet, to his friend Albert Gallatin, then Secretary to the Treasury under Thomas Jefferson. SERENDIPITY!
Here we go on another journey learning more about native history and French Canadian! Have I said how much I love what I do? Like many of my projects this one was not easy to research, but it sent chills down my spine and connected me to my spiritual genealogical guide! There is so much information out there linking Red to various family lines. It's going to take more than a little research to really find answers that seem to be shrouded in mystery.
Jean Baptiste was the son of Antoine joseph Drouet de Richardville and Tacamwa (who was the sister of Miami tribal chief Little Turtle). In many tribes, including the Miami, heritage is decided through the female lineage. Thus, Jean Baptiste became the "chief" of the Miami tribe through heritage.
(Chief) Jean Baptiste de Richardville's (pictured above) father was Joseph Druet de Richardville, a French-Canadian trader of noble ancestry.
"The other Indiana branch of the Drouet de Richerville family is associated with the history of greater Fort Wayne. From about 1750 to 1770 Joseph Drouet de Richerville traded at what was then the village of Kekionga, also known as Miamitown.49 His full name was Antoine-Joseph Drouet de Richerville, born in 1723, the son of Denis Drouet de Richerville, killed in the Chickasaw campaign of 1736.
English officials in Canada were suspicious of those Frenchmen still trading in the West after the Treaty of 1763. Sir Guy Carleton in 1767 listed "Richarville" trading among the Miamis as one who needed watching, as he was trading without the proper license.
Joseph's relationship with Tecumwah, a sister of Miami Chief Little Turtle, led to the birth of a son, Jean-Baptiste, probably in 1762. By the late 1780s Joseph seems to have left Indiana permanently to settle in Three Rivers, Quebec. Tecumwah continued to rear Jean-Baptiste after marrying Charles Beaubien, a prominent local French trader."
5
For more detailed history check out the link to the article quoted above….
Well…after my sojourn into the history of the Miami Tribe in Indiana, it turns out that Red Skelton's grandmother Helen "Ella" Richardville was the daughter of John Richardville (there are many Jean Baptiste or John B.'s on the Chief Jean Baptiste de Richardville line, making things more difficult) born in July 1830 (per 1900 census info) in Indiana and I cannot yet link him to this family…yet. Naming patterns are close, Ella named her son Joseph. Clue…coincidence? Who knows, yet! It is highly probable there is a connection and an even more sad story. This timing was when the Miami tribe that was left living in Indiana had to either simulate into white society or stay with their love of heritage and be removed to the Indiana territory where you find many Indiana Richardville on the Indian census rolls living in this territory (usually Oklahoma).
All the same, this is a fascinating French and French Canadian lineage, the de Richardville family. Probably where Red got his name of Richard? Could poor Ella's story be more understood as a madam of a brothel, if she was a product of the times and just doing the best she could as a town harlot at 17? Hopefully, in the future I will have time to update this research and dig deeper. But….for now….
Did I mention, "I LOVE what I do?" I need a nap!
1
Indiana Births and Christenings 1773-1933, Indexing Project Batch No. C53798-3, GS Film No. 1433363, familysearch.org.
2
Ibid.
3
Ancestry.com. Indiana, Marriages, 1810-2001 [database on-line]. Provo, UT, USA: Ancestry.com Operations, Inc., 2014. Original data: Indiana, Marriages, 1810-2001. Salt Lake City, Utah: FamilySearch, 2013.
4
The Correspondence of John Badollet and Albert Gallatin, 1804-1836, edited by Gayle Thornbrough, Indiana Historical Society Publication, Indianapolis, 1963, Volume 22, p. 168.
5
Quote from The Family of Druet de Richerville: Merchants, Soldiers, and Chiefs of Indiana by Donald Chaput, Indiana Magazine of History, Volume 74, Issue No. 2, 1978, pp. 103-116, on-line publication.